Top 5 reasons you shouldn't go for Huawei view10 /v10 smartphone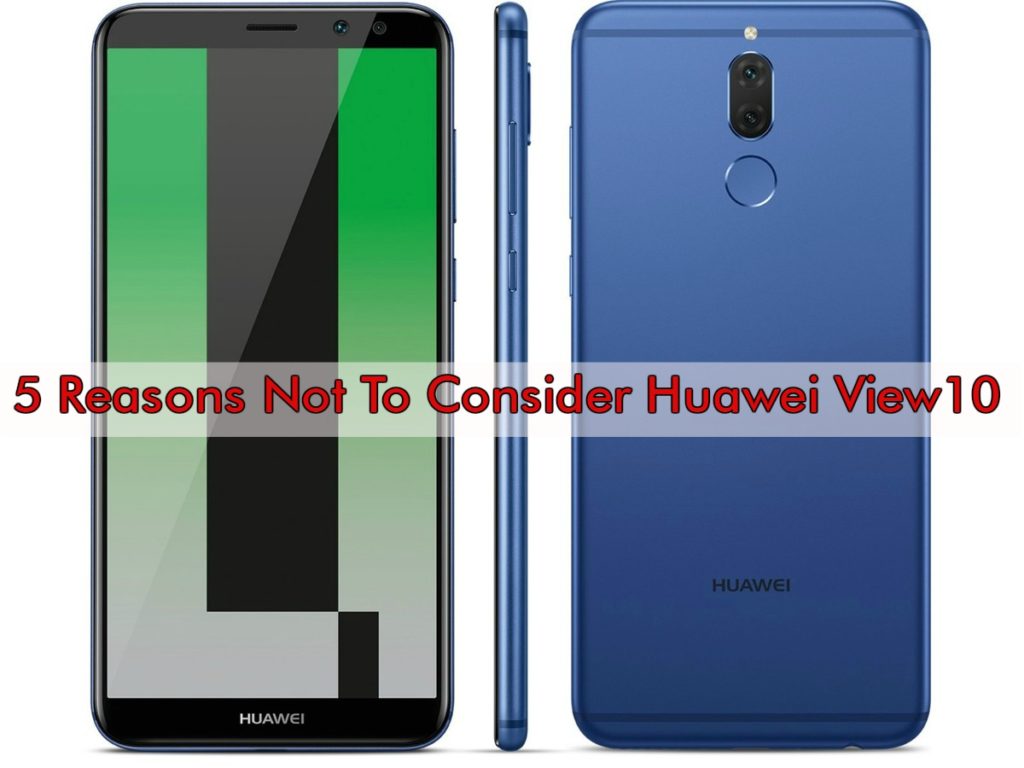 Huawei Honor View 10 is the latest android driven phone to make its way to the shelves in December 2017. After a year of futuristic technological breakthroughs and state of the art phones, Huawei has made an effort to get its fair share of attention. The newest traction is priced at $450, but is it worth every penny? In terms of specification, the phone offers premium features at a reasonable price. With 157 x 75 x 7 mm dimensions, 1080 x 2160 pixels' resolution, Dual: 16 MP (f/1.8) + 20 MP camera & Fast battery charging, it comes into the same category as most of the latest phones. But apart from the breathtaking specifications, it's time to address the elephant in the room, here are some factors to consider:
Also Check : 7 Android Apps that can change your lives in 20
Resemblance
Though the Huawei Honor View 10/V10 smartphones are considered the latest offering of Huawei, they are oddly similar in their specifications with later models. While there is no harm in having similar features and specification, but as we live in a world that lives off of innovation, we should have seen key features that distinguish it promptly from the other models.
Design
The Huawei Honor View 10 smartphone has obviously brought in some major design changes. With Huawei Mate 10, and mate 10 Pro each having dual cameras, the orientation of the camera is different in the view 10. Yet not much has been changed about the design in particular as it is quite similarly sized in the display as the Huawei Mate 10, along with the front-facing fingerprint reader, the same Kirin 970 SoC.
Limited Distinguishable Features
With the Huawei Honor view 10 offering almost the same features as with Huawei Mate 10, and mate 10 Pro, at a much affordable price, it does bring a certain set of uniqueness to the table. This phone has 1080 x 2160 pixels, 18:9 ratios (~403 ppi density) display, different from the 1440 x 2560 pixels, 16:9 ratios (~499 ppi density) offered by Huawei Mate 10.
Also Check : Why are Smartphones important in our daily life?
Display Packed with Power
This 5.99 inches' phone is a guaranteed breath taker, which comfortably fits into your hand and can quickly get the job done! FHD along with display makes this phone a bargain hard to turn down. If the vital offering was going big and bright, this phone certainly delivered. Powering the display is a jam-packed 3,750 mAh battery, significantly less than that being offered by the Huawei Mate 10, and mate 10 Pro. However, Huawei hasn't given us an accurate estimate of how long the battery is going to last; not much can be said without hands-on experience.
Price
The final factor is, of course, the price which is deciding factor for reasons you shouldn't go for Huawei View 10 . The Huawei Honor view 10 is currently being offered at About 500 EUR, while the Huawei mate 10 Pro & the Huawei Mate 10 cost About 800 EUR & 700 EUR respectively. For the features it has to offer, View 10 is a cheaper and better option as it is pretty much the same as the other models.
Final Verdict
Upon comparison with the other models of Huawei, Huawei honor View 10 would be the phone of choice concerning price and mostly specification. However, it does not par well upon comparison with other phones, offering up to 6 GB RAM and facial recognition, regardless Honor view 10 is worth considering.
Also Check : Tech Gifts for Boyfriend That Will Make Him Drool Over
Also Check : Tech gifts for girlfriend in 2018 : Impress her the cool way