Qualcomm AI contest brings devs and impressive neural processing engine together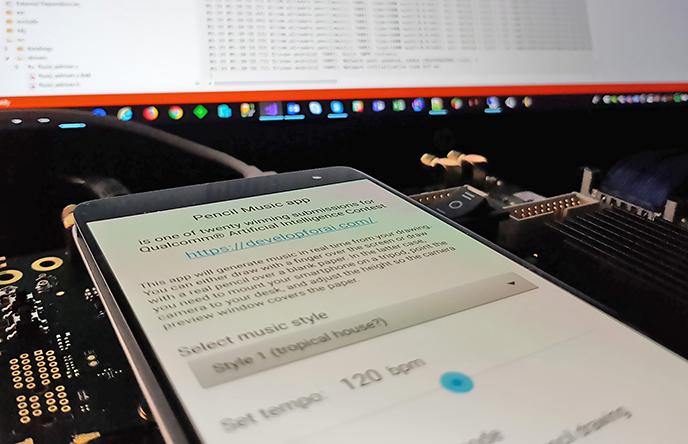 The journey started last September when Qualcomm Technologies asked developers from diverse corners of the world to submit different concepts for an app. The app incorporated a special on-device machine learning along with an artificial intelligence functionality that's available on the Qualcomm Snapdragon Mobile Platform.
Winners (first round) received a Qualcomm Snapdragon 835 Mobile Hardware Development Kit (HDK) for creating an Android app based on their proposal.
In a batch of 20 apps, one app stood out and bagged the grand prize: A trip for two to Mobile World Congress 2018 in Barcelona, Spain or a cash payment of US$10,000.
The winning app was created by Finnish developer Sergey Konvisarov. The app was the Pencil Music App that produces instrumental music in real time based on the unique way a user is drawing.

The app utilizes the integrated Qualcomm Snapdragon Neural Processing Engine (NPE) that translates every single line, circle, squiggle, and shape to produce a tune with drums and bass, etc.

On being asked what compelled Konvisarov to enter the AI Developer Contest, he said that he heard about the contest from CodeProject Daily Insider and found out that he could win a Snapdragon 835 HDK for sharing a creative idea. He added that he was intrigued by the idea.

He revealed that the inspiration for the Pencil Music App was a simple game he plays at home: His daughter makes a drawing like a cat or a person and he tries to do the guessing along with the sound it makes.
He figured it would be fun to have a robot generate sounds based on our drawing.
Konvisarov said that it was fairly easy to get the idea but when he got to the execution part, he faced some hardships.

He started with prioritizing features that were important and then designed a basic architecture of module interconnections comprising the synth, composer, camera, AI, and draw pad. And after that, he got to coding.
He added that it came to a point when he told himself to not add anymore features. Then he stabilized and finalized his design.

He further mentioned that Pencil app is meant for entertainment and he hopes it makes people smile, calms them and fill them with energy when they need it.
This high performance and low power AI solution is all set to make it's way to consumer devices this year.