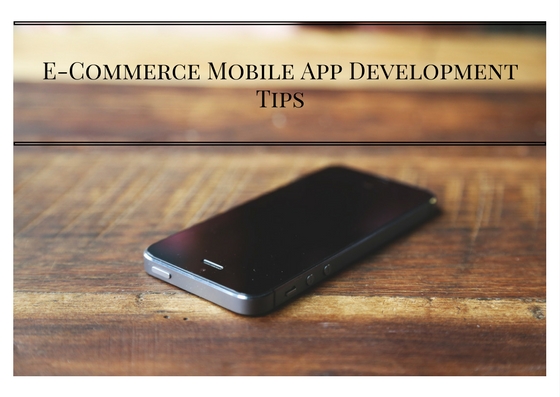 Running an online store, and don't have a mobile app version yet? Planning to develop an app for your e-commerce store, but don't have the right directions? It these are questions on your mind, here are  a couple of tips to help you develop an app for your online store.
The Need For An ECommerce App
App usage is growing day by day. If you e-commerce venture is yet to have an app version, you're losing out on customers already.
You might think, like some people do, that simply having a mobile-responsive website will do the trick. However, in order to attract the mobile user audience, you'll need a foolproof mobile version of your online store. More people prefer to shop via apps than on websites, and you'd do well to remember this.
So, how should you build your online store app?
You probably know that a good app should be capable of featuring all your products, along with their features and prices. Also, it needs to be designed in such a way that the interface is easy and customers can make their purchases easily. Here are some of the things that you need to keep in mind while developing your mobile app.
A Clear User-Interface And Multi-Faceted Navigation
As an e-commerce company owner, you need to give a lot of importance to the interface and the functionality of the app.
Faceted and layered navigation will make it easier for customers to look for what they want and ensure a seamless shopping experience for them. A clear navigation ensures that customers reach to their products in the least possible time.
An Easy Design
What will you prefer if you're the customer shopping on a site? An effortless and seamless experience is the least that you can offer to your customers.
Right from searching and selecting products to checking out, the customer should be able to do in the least possible steps. Don't make the search process complicated for your customers, whether they're searching for products, product information, or even if they want to return your product.
The buttons should be designed in such a way that customers can easily do what they want to.
Call-To-Action Buttons
There is no written rule as for which call-to-actions (CTA) buttons you need on your app.  You need to figure that yourself as what buttons will work best for your store and optimize on the basis of it.
This is something that can be tested, modified, and optimized over the years and is something that you'll need to change with time. What matters is to have a good understanding of the techniques that needs to be used in order to make an effective CTA.
Make sure to place the button is such a way such a way that your customers see that as the first thing when they open your app. This an effective way to increase conversion on your app store.
Using Local Intelligence
Using location-based technology is a great idea when it comes developing a mobile app for an e-commerce store. As a retailer, you'll be able to serve your customers in a very personalized manner. When your app is using a location-based technology, you will be able to reach your customers in real time. And by doing so, you can push some discounts and rewards to your customers and increase your sales.
Ensure Safety
Security is one of the most important things that you need to consider. You need to ensure that the data that your customer provides on your app, is safe with you. Your customers are most likely to share their personal and financial data with you, and it's your responsibility to ensure that it's safe.
These are the most important things that you need to keep in mind as far as your e-commerce mobile app is concerned. Apart from these, the general requirements stay the same like ensuring that the app isn't slow, an easy sign-in procedure, and a guest checkout option.
Online store builders like Shopify let you create a mobile app easily for your online store with SellMob. This is a unique tool that helps you launch your own iOS and Android version of your online store. You can run your website and mobile app side-by-side and experience an increase in sales and revenues.